1 Day Hanoi Itinerary | Food, Landmarks, Budget and more
When looking for a 1 day Hanoi itinerary, you will see that this city has plenty of interesting things to do. However, how can you make the most of your visit to Hanoi if you only have one day? 
We understand that you are a first-time visitor and want to save as much time as possible. As a result, the following programs ensure that you will never be sorry for being in Hanoi. Let's follow us. 
Is it worth visiting Hanoi in one day? 
Is it worth visiting Hanoi in one day? 
Absolutely! Despite the limited time, a day trip to Hanoi can be a rewarding experience that offers a taste of this vibrant Vietnamese capital. Hanoi, known for its cheap and safe environment, has a lot to offer in terms of history, culture, and much more. 

In just a single day, you can explore some of its most iconic attractions, learn more about rich history and culture, enjoy the best of traditional cuisine, and be greeted by the warm and friendly people that make Hanoi a truly special destination.
1-Day Hanoi Itinerary Overview
1 Day Hanoi Itinerary with Top Destinations 
A short introduction about Hanoi attractions, food, and culture.
There are many places to go but we strongly recommend these places. 
Hoan Kiem lake 
Why Hoan Kiem Lake: This enchanting lake is not only a beautiful scene but also steeped in legend and history. 
How you can experience the lake? 
Strolling along the shores of Hoan Kiem Lake.  

On weekends, get to Hoan Kiem walking street where you can soak in the local culture, shop for souvenirs, and interact with street performers. 

To add a sweet touch to your visit, don't forget to taste delicious Trang Tien ice cream.

Taking photos of its iconic landmarks. 

Admire the red Huc Bridge, Ngoc Son Temple, and the mystical Turtle Tower rising from the center of the lake.
Hoa Lo prison 
Another stop on your one day Hanoi itinerary is the Hoa Lo Prison, also known as the "Maison Centrale." This historical site offers a sobering glimpse into Vietnam's tumultuous past, particularly during the periods of French colonial rule and the Vietnam War.

As you explore the prison, you'll have the opportunity to learn more about the history and the stories of those who were incarcerated within its walls. 
The exhibits and preserved sections of the prison depict the challenging conditions and the suffering endured by Vietnamese revolutionaries and American prisoners.
Women museum
Learn about the role and importance of Vietnamese women in the country's culture and history. 
Simulates the life of traditional Vietnamese women. 

 

The museum

vividly portrays the image of heroic Vietnamese women who have left an indelible mark on the country. 

A captivating display of traditional costumes representing all 54 ethnic groups in Vietnam. 

The ancient women's cosmetics, weaving, and silver jewelry, as well as their actual teeth, will wow you.  
Temple of Literature 
Quoc Tu Giam is Vietnam's first university, preserving the cultural and historical marks of the capital of a thousand years of civilization. 
View several valuable documents and artifacts. Especially noteworthy are the 82 doctorate steles, which were recognized as "World Documentary Heritage" by UNESCO.

Unique architecture with a wide range of works. 
Tran Quoc Pagoda 
Tran Quoc Pagoda, set alongside the picturesque West Lake, has an enticing architectural design with a big and welcoming entrance. 

Summary of top destinations
Top Destinations

Info

Hoan Kiem lake 

Opening Time:


Monday – Sunday: 24/24h 

*Walking street: 

Friday to Sunday: 18:30 – 24:00

Ticket

: Free

Map

Hoa Lo prison 

Opening Time:

Daily – 08:00 – 17:00 

Ticket: 

30.000 VND/adult 

15.000/student 

Under 15 years old: Free

Women Museum 

Opening Time:

Daily – 08:00 – 17:00 

Ticket: 

40.000 VND/adult 

20.000 VND/student 

Under 10 years old: Free

Temple of

Literature

Opening Time:

Daily – 08:00 – 17:00

Ticket: 

30.000 VND/adult 

15.000 VND/student 

Tran Quoc Pagoda 

Opening Time:

Daily – 08:00 – 16:00 

Ticket: Free

St. Joseph's

Cathedral 

Opening Time:

Daily – 24/24 

Ticket: Free

Long Bien Bridge 

Opening Time: Daily –

24/24

Ticket: Free

Hanoi Opera House

Opening Time:

Daily –

24/24

Ticket: Free

Dong Xuan Market

Opening Time: 

Daily: 06:00 – 18:00 

Friday – Sunday: 06:00 – 22:30 

Ticket: Free
1 Day Hanoi Itinerary with unique local experiences 
Aside from seeing some gorgeous places, you are welcome to participate in some of the city's distinctive activities. 
Water puppet show 
This is a traditional Vietnamese art form that combines puppetry, music, and water, offering a unique cultural experience. 

Address 1: Thang Long Water Puppet Theatre 
Summer: 4:10 p.m. | 17:20 | 6:30 p.m. | 8 p.m.
Winter: 3 pm | 16:10 | 17:20 | 6:30 p.m. | 8 pm | 9:15 p.m.
Sunday morning: 9:30 am.
Each Thang Long water puppet show lasts about 45 minutes.
Ticket:100.000 – 200.000 VND. 
Address 2: Lotus water puppet 
16 Le Thai To Str – (79 Hang Trong) – Hoan Kiem Dist – Hanoi

Address: 16 Le Thai To, Hoan Kiem District, Hanoi.

Show schedule: 2:45 p.m., 4:00 p.m., 5:15 p.m., 6:30 p.m.

Ticket: 80,000 VND/standard ticket




100,000 VND/VIP ticket.
Cyclo in Hanoi Old Quarter 
Take a leisurely cyclo ride through the bustling streets of Hanoi's Old Quarter. This traditional cycle will allow you to immerse yourself in the charm of the historic streets.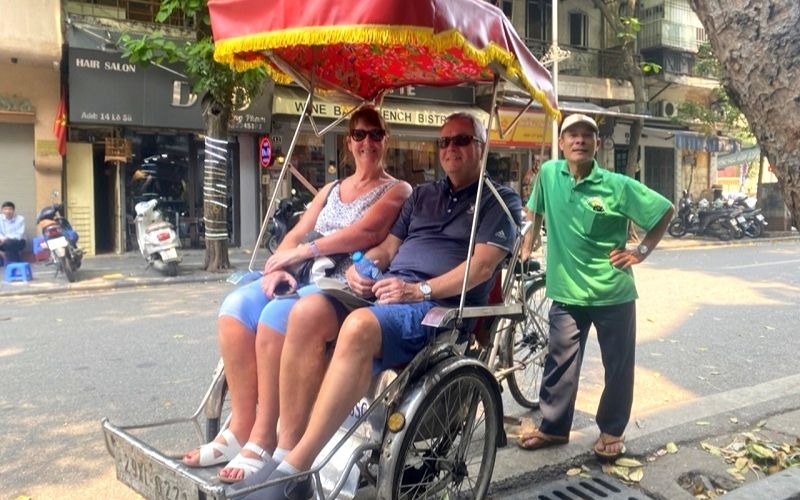 Tips: It is quite easy to book a cyclo. On the streets of the Old Quarter, there are many drivers. You should reach a price agreement before confirming. The price ranges between 150.000 and 300.000 VND.
Hanoi city tour by bus (Hop on – hop off)
For a more comprehensive exploration of Hanoi, hop on a city tour by bus, which will take you to more than 20 famous attractions, allowing travelers to explore and experience the city in their own way.
Departure: Here
Ticket price:  150.000 – 450.000 VND 
Hanoi motorbike tours 
If you're feeling adventurous, consider taking a motorbike tour, offering a thrilling way to navigate the city's bustling streets while uncovering hidden gems and local eateries. 
Hanoi jeep tour 
Alternatively, the Hanoi jeep tour is a unique way to explore the city's surroundings, from the tranquil countryside to off-the-beaten-path attractions.

What to eat in 1 Day Hanoi itinerary 
If you find yourself overwhelmed with a bustling schedule in Hanoi and uncertain about where to satisfy your taste buds, don't worry. Take a look at our top-notch dining destinations awaits. These dishes have received excellent reviews from numerous travelers.
Essential Safety Tips for Traveling in Hanoi City
What should I bring? 
When packing for your trip to Hanoi, keep in mind that the summer season typically lasts from May to September. The temperature can reach 38-40 degrees Celsius. 
To stay comfortable, make sure to include the following items in your travel bag: a hat, sunscreen, sunglasses, and plenty of water to stay hydrated and avoid fatigue.
Be careful

Traffic Awareness:

If you're a foreign visitor, be cautious when crossing the roads. It's advisable to wait for the red light to stop traffic before going.

Rush Hour

: On weekdays, particularly in the afternoon from 5:00 p.m., expect heavy traffic as people head home from work.

Weekend Crowds:

During Friday to Sunday evenings,

Hoan Kiem Lake's walking street

becomes lively and packed with people. It's a fun atmosphere but be prepared for the crowds.

Street Food: Choose a restaurant that maintains a clean and hygienic environment to ensure a safe dining experience.


Street Shopping

: If you plan to shop at street markets or stalls, always check and haggle for prices before making a purchase to avoid overpaying.
Your travel buddy in Hanoi 
For further assistance and reliable travel advice in Hanoi, consider connecting with Topasiatours. 
We are here to offer free information to enhance your trip experience. 
Additionally, if you wish to book quality services, we can provide you with the best prices and support.
How to connect: 
Whatsapp: (+84) 967 53 54 99
With 1 Day Hanoi itinerary, Top Asia Tours hopes that you will have the best time in this extraordinary city. We are here to help you at every stage of your adventure, whether it is your first time in Hanoi or you are returning to enjoy more of its beauty. We appreciate you considering us to be your traveling buddy, and we wish you many more great experiences. Travel safely!