Perfect 3-Day Hanoi Itinerary | Top 5 Choices For First-Time Visitors 
As the world begins to reawaken from the pandemic, Hanoi's beloved Old Quarter is once more bustling with life, making it an enticing destination for travelers. This vibrant city is a hub of cultural attractions and traditional street food, waiting to be explored. Wondering how to make the most of your 3 days in Hanoi? Allow us, as experienced tour operators, to guide you through our top X recommendations for an unforgettable "3-Day Hanoi Itinerary". 
3 Day Hanoi itinerary overview 
3-Day Hanoi itinerary in detail 
The exact time of your arrival in Hanoi may be uncertain, but the list of interesting experiences that await you is not. Feel free to make the most of your free time as you explore Day 1 in Hanoi. 
Day 1 in Hanoi, explore the Old Quarter 
Morning time
Hoan Kiem lake 
Begin your day with a leisurely walk around Hoan Kiem Lake, located at the heart of Hoan Kiem district. The name "Hoan Kiem" translates to "restored sword" in English, according to the lake's legendary. As you complete one circuit around the lake, you'll admire iconic landmarks such as the Tortoise Tower and The Huc Bridge, all adding to the charm of this serene locale.
Hanoi Opera House
Just a brief stroll away lies the Hanoi Opera House, often likened to a "miniature Opera Garnier Paris." This architectural masterpiece attracts a diverse array of visitors, with its historical, cultural, architectural, and fine arts significance. 
As a quintessential symbol of Hanoi, it also provides an excellent background for capturing memorable photographs. For those interested in exploring its interior, guided tours are available, allowing you to uncover the Opera House's rich heritage.
Tour Details:
Duration: 70 minutes per tour.

Price: 120,000 VND per person.

Available on: Monday to Sunday (excluding Fridays).

Tour timings: 10:30 a.m. to 12:00 p.m.
Egg coffee 
Before continuing your journey, make a pit stop at one of Hanoi's hidden gems – Giang Café, renowned for its egg coffee. Nestled on a quiet lane along Nguyen Huu Huan Street in the city's old quarter, Giang Café has been delighting coffee connoisseurs since 1946. 
The delectable concoction of eggs, milk, and coffee creates a flavor that's both extraordinary and unforgettable. 
If you find Giang Café bustling with patrons, consider making a detour to Dinh Café for a similarly delightful egg coffee experience.
How to get there: 
St. Joseph Cathedral
Our next stop leads us to the St. Joseph Cathedral, celebrated for its exceptional architecture in the heart of Hanoi. This timeless work was erected during the era of French colonial influence and displays the features of the European Gothic style. 
Beyond its role as a place of worship, St. Joseph Cathedral beckons as a must-visit destination and a popular check-in spot for travelers and locals alike. 
This cathedral is open to all, and admission is free. Whether it's a weekday or the weekend, you can explore its splendor at your convenience. 
From Monday to Saturday: from 8:00 am to 11:00 am and then reopens from 2:00 pm to 8:00 pm.

On Sundays: From 7:00 a.m. to 11:30 a.m., and then reopens from 3:00 p.m. to 9:00 p.m.
St. Joseph Cathedral: Map 
Street food 
Here are our lunchtime recommendations. All of the locations are in Hanoi's old quarter. 
Traditional noodles in Hanoi: 
Vietnamese restaurant: 
Dong Xuan Market
Dong Xuan Market has graced Hanoi for centuries. The market offers a distinct shopping experience:
1st Floor: The first floor is a home of clothing, shoes, fashionable accessories, and electronics primarily sourced from China.
2nd Floor: Ascend to the second floor, a bustling hub for both retail and wholesale adult clothing and fabrics, catering to every fashion preference.
3rd Floor: The third floor is dedicated to an array of items for newborns, making it a haven for young families.
Dong Xuan market: Map 
Shopping Tips:
While exploring Dong Xuan Market, remember to bargain. For security, wear your bag in front to safeguard your personal belongings.
Long Bien Bridge
Our journey then leads us to the enchanting Long Bien Bridge, a structure with its distinctive charm, perfect for taking beautiful pictures. 
As you stand upon this iconic bridge, you'll be treated to a romantic view of the Red River beneath. 
Witness the bridge's timeless beauty, and as the day gracefully turns into night, observe the tranquility of people making their way home. This scene leaves you with a lasting sense of tranquility and romance, making your visit truly memorable.
Long Bien Bridge: Map
Evening time: Optional 
There are many things to do in Hanoi at night. On your first day, we offer you a selection of experiences. Feel free to explore the other options on different days of your visit.
1. Ta Hien beer street (with food) 
Ta Hien Street has preserved Hanoi's heritage for centuries with its quaint, narrow houses and antique yellow walls. This neighborhood boasts a collection of houses designed in classic French architecture, characterized by their uniform styling. 
What sets Ta Hien Street apart is its array of restaurants and sidewalk beer bars in close proximity. 
Here, you can savor delicious dishes and mingle with locals, as well as a vibrant crowd of young people and Western tourists. All create a joyful and lively atmosphere at Ta Hien Street. 
Ta Hien beer street: Map 
2. Thang Long water puppet show
This is a traditional Vietnamese art form that combines puppetry, music, and water, offering a unique cultural experience. 
Address: Thang Long Water Puppet Theatre – 57B Dinh Tien Hoang Street (map). 
Performance schedule:
Summer: 4:10 p.m. | 17:20 | 6:30 p.m. | 8 p.m.

Winter: 3 pm | 16:10 | 17:20 | 6:30 p.m. | 8 pm | 9:15 p.m.

Sunday morning: 9:30 am.

Each Thang Long water puppet show lasts about 45 minutes.

Ticket:100.000 – 200.000 VND. 
3. My village show 
If you're in the mood for a different kind of entertainment, the My Village Show offers a unique experience. This performance blends various theatrical art forms, including trapeze circus, acrobatics, juggling, mime, and singing. What makes it even more special is that the entire stage is intricately crafted from bamboo, creating a rustic yet artistic ambiance that transports you to a traditional "village."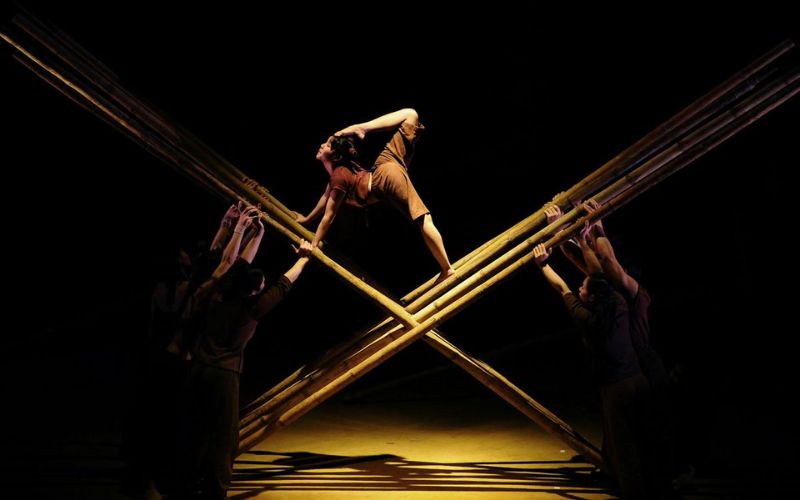 You can purchase tickets online at My Village Tickets (with prices ranging from 700,000 to 1,200,000 VND per ticket). 
The show takes place at the Hanoi Opera House, situated at 01 Trang Tien Street.
4. Hang Ma Street 
Let's delve into the cultural richness of Hang Ma Street. This street is celebrated for its longstanding tradition of crafting and trading paper goods, ceremonial offerings, and decorative accessories.
Day 2 in Hanoi, city tour
How to spend your 2nd day in Hanoi city? Out of the Old Quarter, there are so many historical sites to discover. 
Hanoi train street
Begin your day with a visit to the Hanoi Train Street, a unique hamlet nestled along the railway strip, stretching approximately 2 kilometers from Dien Bien Phu Street to Phung Hung Street. This place offers the perfect setting to enjoy a cup of coffee, start lively conversations with friends, and relish the thrill as trains pass by.
Temple of Literature 
Afterward, make your way to the Temple of Literature, also known as Quoc Tu Giam. This establishment stands as Vietnam's first National School, where numerous generations of talented individuals were cultivated for the betterment of the nation. The Temple of Literature worships three wise kings of Vietnam: Ly Thanh Tong, Ly Nhan Tong, and Le Thanh Tong.
As you explore this cultural gem, you'll have the opportunity to admire documents and artifacts, with the standout being the 82 doctoral steles, which have received UNESCO recognition as a "World Documentary Heritage."
Ho Chi Minh complex 
Your journey continues with a visit to the Ho Chi Minh Complex, a monument of cultural and historical significance that draws countless tourists. The usual route for visitors takes you through Uncle Ho's Mausoleum, Uncle Ho's Stilt House, Uncle Ho's fish pond, the Ho Chi Minh Museum, and finally, the One Pillar Pagoda.
Tran Quoc pagoda, West lake 
Head to Tran Quoc Pagoda, a sanctuary nestled alongside the picturesque West Lake – map 

To complete your visit, don't miss the opportunity to savor Roll Pho near the West Lake, with Phở Cuốn Phương Mai, located at 25 – 27 Ngu Xa, being a recommended choice.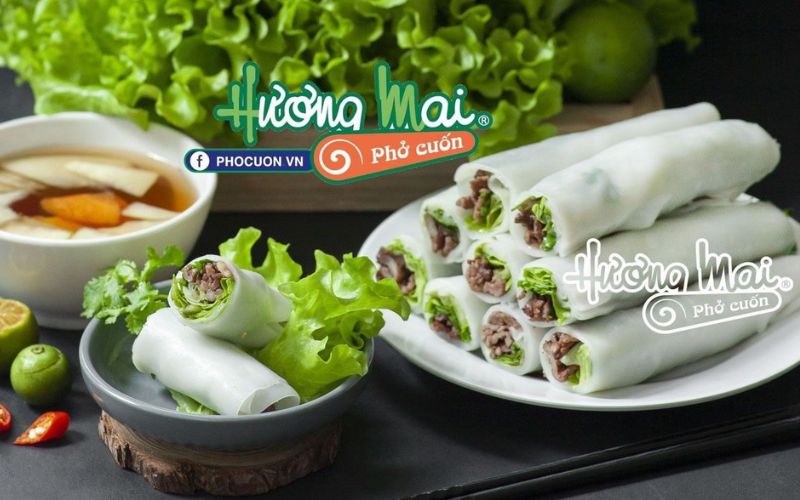 Day 3 in Hanoi, out of the city 
There are 3 options for you to choose from. 
Option 1 – Vietnam Museum of Ethnology
The Museum of Ethnology is a place for you to admire documents and artifacts about the culture and history of 54 ethnic groups in Vietnam.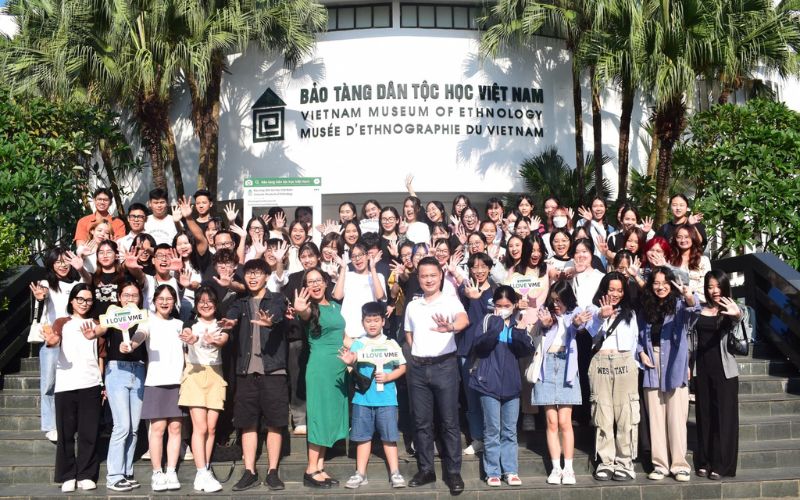 Address: No. 1 Nguyen Van Huyen Street, Cau Giay district, Hanoi. 

Opening hours: 8:00 – 17:30 Tuesday – Sunday
Option 2 – Bat Trang ceramic village
Depart for Bat Trang ceramic village, located approximately 15km from Hanoi's Old Quarter.
Visit Bat Trang Museum: Learn about the history and art of ceramics in this dedicated museum.

Experience Pottery Making: Participate in a hands-on pottery-making workshop guided by skilled artisans, and create your own unique piece to take home as a souvenir.

Shop at Bat Trang Market: Browse through an array of beautifully crafted ceramics, including bowls, vases, plates, and more, and have the opportunity to purchase exquisite pottery pieces.
Option 3 – Take a jeep tour to the rural village 
In this tour, you will: 
Escape the city's hustle and bustle to immerse yourself in the serene rural landscapes.

Gain insights into Vietnamese agriculture and rice cultivation.

Experience firsthand the warmth and hospitality of the locals as you engage with them and gain unique insights into their way of life.

Uncover the rich history of Co Loa village, dating back to the 3rd century BC.

Vintage Jeep to the countryside
Tour recommended: Hanoi countryside Jeep tour: Explore local life and rural beauty
3-Day Hanoi Itinerary with Ninh Binh 1-day trip 
Your journey begins with two days of exploring the vibrant city of Hanoi, following the careful itineraries we've provided. On the third day, go beyond Hanoi's bustling streets and start an unforgettable day trip to Ninh Binh province, located just 90 kilometers away from Hanoi.
What to Do in Ninh Binh in One Day:
Hoa Lu Ancient Capital:

Step back in time as you visit the historic Hoa Lu, the first capital of Vietnam.

Bich Dong Pagoda

: Admire the serene beauty of Bich Dong Pagoda, a place of tranquility and spirituality.

Tam Coc River or Trang An River

: Choose between the mesmerizing boat rides offered at Tam Coc and Trang An, where the natural beauty of Ninh Binh unfolds before your eyes.

Cycling Around Villages:

Immerse yourself in the local culture by cycling through picturesque villages, and admire the charm of rural life.

Mua Cave:

A visit to Mua Cave offers breathtaking panoramic views of the Ninh Binh landscape.
Options for Your Ninh Binh Adventure:
This one-day Ninh Binh trip promises a wonderful blend of history, nature, and local life, making it a perfect addition to your 3-day Hanoi itinerary.
3 Day Hanoi itinerary with Halong 1-Day trip 
Planning your Hanoi journey with a Halong Bay day trip is a remarkable way to make the most of your limited time in Northern Vietnam. Here are two exciting options to consider:
Option 1: Hanoi 1 Day – Ninh Binh 1 Day – Halong Bay 1 Day Cruise
Day 1: Dive into Hanoi with your choice of our suggested itineraries.
Day 2: Immerse yourself in Ninh Binh for a full day of exploration.
Day 3: Set sail for a memorable Halong Bay 1-day cruise, experiencing its awe-inspiring beauty.
Option 2: Hanoi 1 Day + Halong 2 Days 1 Night Cruise
Day 1: Begin your adventure in Hanoi, exploring the city's rich history and culture.
Days 2 & 3: Depart for a 2-day, 1-night Halong Bay cruise, where you'll be enchanted by the stunning landscapes and tranquil waters of this UNESCO World Heritage Site.
For an in-depth guide to your 2-day Halong Bay cruise, visit this link: Top Asia Tours – Halong Bay Cruise.
Whether you choose to combine Hanoi and Ninh Binh or Hanoi and Halong Bay, your 3-day trip promises unforgettable experiences in this mesmerizing region of Vietnam.
Essential Safety Tips for Traveling in Hanoi City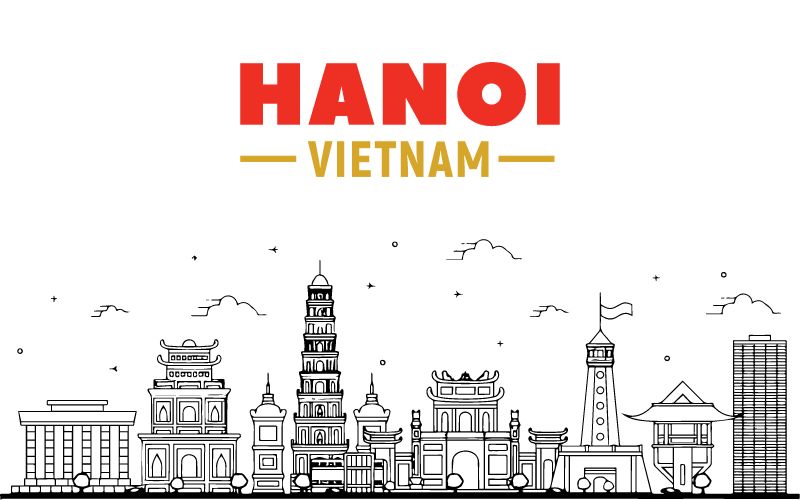 What should I bring? 
When packing for your trip to Hanoi, keep in mind that the summer season typically lasts from May to September. The temperature can reach 38-40 degrees Celsius. 
To stay comfortable, make sure to include the following items in your travel bag: a hat, sunscreen, sunglasses, and plenty of water to stay hydrated and avoid fatigue.
Be careful

Traffic Awareness:

If you're a foreign visitor, be cautious when crossing the roads. It's advisable to wait for the red light to stop traffic before going. 

Rush Hour

: On weekdays, particularly in the afternoon from 5:00 p.m., expect heavy traffic as people head home from work.

Weekend Crowds:

During Friday to Sunday evenings,

Hoan Kiem Lake's walking street

becomes lively and packed with people. It's a fun atmosphere but be prepared for the crowds.

Street Food

: Choose a restaurant that maintains a clean and hygienic environment to ensure a safe dining experience.



Street Shopping

: If you plan to shop at street markets or stalls, always check and haggle for prices before making a purchase to avoid overpaying.
Your travel buddy in Hanoi 
For further assistance and reliable travel advice in Hanoi, consider connecting with Topasiatours. 
We are here to offer free information to enhance your trip experience. 
Additionally, if you wish to book quality services, we can provide you with the best prices and support.
How to connect: